1) NetStaller 1.0.17
NetStaller is a software deployment utility for computer networks. It enables system administrators to remotely install and remove software applications to/from selected network PCs using Windows Installer MSI packages. Available for a free trial.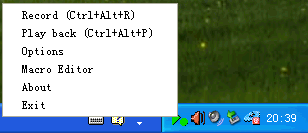 2) Easy Macro Recorder 2.6
Easy Macro Recorder is a handy utility that makes your computers automatically do work for you. It records all operation of mouse and keystrokes and saves them as macros, then Easy Macro Recorder can play back recorded macros to automate your work.

3) WinTask 3.2
Create and schedule macros for any Windows program and Web sites. WinTask Recording mode (object-oriented) generates the script for you ; use the advanced editing capabilities to optimize it with more than 300 functions.

4) Auto Power-on Shut-down 2.20
An easy to use application that allows you to control your computer resume from power-off state (hibernation) or wake up your computer from sleep mode (stand by).

5) WinBatch 2008c
WinBatch automates PCs with simple scripting and pre-built sample solutions. It manipulates PCs including: Windows APIs, third party software, networking (MS and Novell), Internet communications (FTP, email, etc.), and SQL databases.

6) KeyText 3.11
Keyboard macro program with multiple clipboard and Windows automation features. Stores texts for typing or pasting into any application, run programs, set alarms, completely automate password dialogs and more. Elimate those repetitive tasks!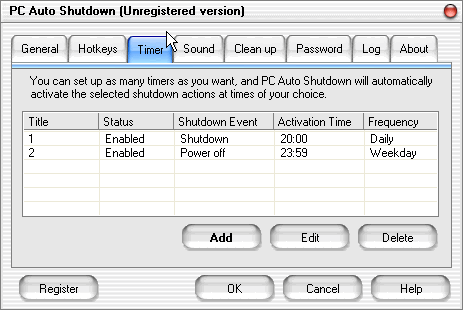 7) PC Auto Shutdown 2.2
PC Auto Shutdown is a handy utility that help you shutdown, power off, reboot, hibernate, suspend or log off computers at schedule time you specifies. It gives you different ways to schedule the shutdown event, such as daily, weekly and only once.

8) Symantec LiveUpdate
LiveUpdate is the Symantec technology that permits an installed Symantec product to connect to a Symantec server over the Internet to check for program and other updates such as virus definitions and URL lists.

9) ScriptAhead 1.0
ScriptAhead helps you automate your daily tasks by writing automation scripts for you. Especially useful for Windows administrators, lets you compose scripts that manage every aspect of a Windows computer/network through an easy to use interface.

10) NestLib Latest Ver
NestLibĀ® is a nesting software for optimizing material utilization while fitting two-dimensional shapes on a larger sheet. NestLibĀ® incorporates several features which result in significant material saving. NestLibĀ® is one of the fastest and most featured automatic true shape nesting library available in the industry.


11) xStarter 1.9.0
xStarter will help you to automate each and every process in your computer. Automate operations on schedule, or on a keypress or via various events (windows event log changes, file/folder modifications, signals from an RS232 port, TCP/IP, etc.)

12) Action Process Automator 4.4
easy to use automation tool wit many built in tasks, like copy, backup, zip, unzip, rename, delete, monitor, launch, terminate, email - no programming

13) PTFB Pro 3.0
PTFB Pro is a mouse auto-clicker and macro recorder for automatically handling confirmation screens and other windows that interrupt your workflow.

14) Macro Mania 12.3.0
This award-winning program will save you time and money as you automate your computer tasks with macros. Macro Mania eliminates all the tedious computer tasks and redundant typing chores that can be done much faster and easier with macros.

15) TimeAnalyzer - Time Tracking Tool 1.0
TimeAnalyzer automatically tracks your computer usage by recording your current foreground process in real time, and allow you identify how you spend a typical day on computer. Its report system presents full-featured computer time distribution.

16) Hotkeycontrol 6.3
Hotkeycontrol is the award winning solution to create keyboard shortcuts for routine tasks. These tasks include, but are not limited to opening files, ejecting cdrom drives, restarting the computer, typing frequently used text and recording macros.

17) Type4Me Automatic Typing 1.1
This program is for people who want to automatically fill in forms by hitting one button. This program is also for people who use chat rooms and want to hit one button to type in common expressions or emoticons.


18) Jitbit Macro Recorder 4.11
Jitbit Macro Recorder is a keyboard recorder, mouse recorder, player and script editor. All recorded keystrokes and mouse activity can be saved to disk as a macro, bound to hotkeys, extended with custom commands or compiled to an EXE file.

19) RSHUT PRO 2.8.1.2
Windows shutdown utility that allows quickly and automatically shutdown and wake up home computer, remote computers in LAN domain or large corporate network or Internet. Flexible scheduler, command line mode, remote deployment and more.

20) MWAV Toolkit Utility 9.5.8
Free AntiVirus toolkit to scan your PC of virus, adware, spyware, trojans, registry errors and other malware.

21) World Geography Tutor Deluxe
As modern communications technology shrinks the world year by year, the nightly news brings the names of once-exotic places into our lives - places like Azerbaijan, Djibouti, Turkmenistan and Sierra Leone

22) Usingit Image Resizer 4.0
Usingit Image Resizer will help you to process a lot of images with several clicks. Don't be fool by the name of this tool

23) Tagkeys 2.0
Collect, Store, Categorize, Review, and Re-use all types of information in all types of documents with a few simple keystrokes or mouse clicks. No complicated setup procedures, no scripts to write, extremely easy to use.


24) Testing Master 1.7.1
Testing Master is a load and stress testing tool that provides you with an easy to use, consistent and cost-effective way of testing web sites and intranet applications with web interface.

25) ByteWedge 2.0
Acquire data from electronic devices through an RS232 interface and input it directly into your database, whether it is MS Access, MySQL or any other ODBC-compliant database. Start collecting data in minutes using the visual step-by-step wizards.

26) GSA Autostart Cleaner 2.28
Search all places in your OS where applications leave their autostart entries and context menus. Then you can choose if one is really required or if it can be removed. This speeds up the whole boot process and resulting in a more stable system.

27) Okoker Shutdown Expert 7.6.31.1521
Okoker Shutdown Expert is a handy utility that helps you shutdown, restart, log-on or sleep your PC at your scheduled time


28) CASH Interface Software 4.0.3.1
With the serial CASH-Interface you can connect coin acceptors of the type NRI, EMP and others or bill acceptors of the type GBA, Smiley and others. Monitoring a device is carried out via a DLL which can be used out of every programming language!

29) Accents 1
Mophy Accents allows you to type accented or special characters into any Windows program simply and easily. There is no need to remember special codes, typing accents becomes as easy as typing capital letters.

30)
Socket Spy 4.28