1) AbleSpace 1.0
Professional Community, Social Network Script. YouTube MySpace-like Software. Video Chat, VOIP Phone, Video Sharing Module, Flash Games, Friends Module, Flash Chat with Multiple Rooms, 3D Chat, Groups, Classifieds, Events, Greetings' Recording.

2) HTML Executable 3.3.1.0
HTML Executable is an ebook and website .exe compiler; it turns web sites into compact applications for efficient and secure distribution. Create full-featured digital publications, ebooks, presentations... with skin support and a lot of options.

3) FlashChat 4.7.12
Customizable Flash Chat Room and Live Support system for your PHP/MySQL-enabled website. Try it now!

4) Direct MP3 Joiner 4.0
Direct MP3 Joiner is an easy and fast audio tool to combine, merge or join MP3 files. With Direct MP3 Joiner you can join multiple music MP3 files to one larger MP3 file in a second


5) Registry Workshop 2.2.0
Registry Workshop is an advanced registry editor. In addition to all the features that you can find in RegEdit and RegEdt32, Registry Workshop adds many powerful features that allow you to work faster and more efficiently with registry related tasks.

6) Dating Pro JULY-2008
Professional script for your own Dating Business. Easy to install and manage, free support and quality guarantees, constant updates and hosting. SMS payment, Refer friend, Chat, Banners, Gallery, Multilanguage, Classifieds, Couples, Account, Add-ons

7) IQ Test Trainer 4.0
Iq Test Trainer- train your intelligence and become a genius !Train your intelligence with this powerful software based on neurophysiological mechanism called Backpropagation. Improve your IQ test score, memory and attention

8) PHP serial extension 1.0
This is a loadable extension for PHP running on Windows implementing serial port handling and communications. Once installed in PHP environment you can programm PHP applications to control serial device hosted on server from remote location.


9) Rapid PHP Editor 2006 9.1
Powerful, quick and sophisticated PHP editor with debugger and utf-8 support. You can instantly create and edit not only PHP, but also HTML, CSS and JavaScript code. Integrated tools allow you to easily validate, reuse, navigate and format your code.


10) DzSoft PHP Editor 4.2.1.1
DzSoft PHP Editor is a handy and powerful tool for writing and testing PHP and HTML pages. With its deceptive simplicity, it's interface is comfortable both for beginners and experienced programmers, making PHP development easy and productive.

11) XUpload Pro 3.0
XUpload - AJAX upload progress bar indicator for web based file uploads written on Perl. XUpload lets you to accept file uploads on your website and shows upload progress bar which is showing upload progress bar. Will work on any hosting.

12) Walker Traffic Exchange Script 3
Offer a valuable traffic exchange service and build a busy community interested in web promotion. A WalkerSoftware Traffic Exchange Script is an advanced web based promotion tool that allows you to create a membership community quickly and easily.


13) WeBuilder 2006 9.1
Complete all-in-one code editor for all your web document editing needs. Edit HTML, CSS, JavaScript, PHP, ASP etc. within single program. Clean interface, quick startup, true flexibility and powerful features enable you to do more in less time.

14) BeListings Free eBay Software 1.0
Free eBay software open source code ASP and XML, GPL License eBay listing software. Use this free eBay listing tool to make money online, at home from your website. By creating eBay listings related to the content using a simple ASP function call.

15) Matchmaking Solution Christmas-2007
Matchmaking Software is a ready web site for Matchmakers, Dating Agencies and Match Bureaus. It allows managing database of ladies, their correspondence with men. It's an easy-to-use, functional solution with attractive appearance and colorful design

16) Affiliate Pro 3.2.8
Add affiliate software to your e-commerce website, that is the best way to achieve more sales and more traffic! Affiliate marketing software installs in just minutes and integrates easily into existing website, shopping cart or other e-commerce.


17) SplineTech JavaScript HTML Debugger 6.36
SplineTech JavaScript HTML Debugger is a unique award-winning javascript debugging tool that enables you to easily edit and debug JavaScript and VBScript inside HTML. Client-Side JavaScript, JScript and VBScript debugging languages fully supported.

18) OpenDomains 1
Opendomains will help you become Free Domain Provider, build in Php/Mysql. Easy to install and use, you can make money with the script and your website. OpenDomains can create any subdomain of your domain. You can put your ad into any subdomain.

19) MIXER!! 1.1
Professional Dating and Community Interactive Software. The only dating community script in the world with AJAX, 3D Chat, and FLASH games! Protection against nulled and cracked MIXER !! warez versions with IP check.

20) PHTML Encoder 5.0
The PHTML Encoder allows encoding PHP scripts before distributing them. The script code is encrypted before saving. You can lock your scripts to predefined machine via machine ID. It is possible to combine protected/unprotected scripts in one site.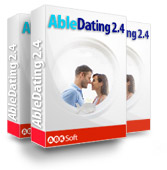 21) AbleDating 2.4.537
ABK-Soft LTD Professional Dating and Community Interactive Software. The only dating community script in the world with AJAX, 3D Chat, and FLASH games! Protection against nulled and cracked ABK-Soft AbleDating warez versions with IP check.

22) InnerPeace Webmaster ToolKit - Assorted Utilities 2.10.04
The InnerPeace WebMaster Toolkit is a collection of tools assembeled and made by the Webmasters of InnerPeace. Some of these essensial tools are not available anywhere else. Easy to use. Runs on any O/S: Windows, Mac, Unix, etc. License: GNU GPL.

23) PPWIZARD - HTML PREPROCESSOR 05.013
Free powerful but easy to use multiplatform html preprocessor. Includes external files. Imports SQL (and delimited text files). Useful for automated web site development and ensuring a common look and feel. Supports macros and conditionals.

24) ASPPack GroupWare 2.1.2
ASPPack Groupware by ITCom3 is a an instant intranet software for Windows. ASPPack allows you to create a Web based GroupWare in a few minutes

25) PG Real Estate Solution Open SEP.2008
PG Real Estate - turnkey open source script to build a Real Estate Site. It has a flexible structure and can be easily set to meet the needs of a separate realtor, Real Estate Company or a webmaster providing FSBO/Flat Fee listings website services.

26) WebCab Bonds (J2EE Edition) 4.0
EJB Suite offering general Interest derivatives pricing framework: set contract and vol/price/interest models and run MC. Also Analyze Treasury bonds, Yield, Zero Curve, FRAs, Duration/Convexity...

27) EScrambler - Webmaster Antispam Utility 2.10.04
Email address code scrambler. Fight spam. Hide email addresses from spam robots. Your visitors can read and click on your email addresses the same way they do now. Robots will not find them. Stay off spam lists. Search engine friendly. Easy to use.

28) dbQwikSite PE 5.2.3.0
Amazingly powerful web site builder. Create data driven web pages with ease. Just say "No!" to hours of learning and programming. dbQwikSite writes all your code for you. Works with popular databases and web servers. Creates ASP, ASP.net and PHP.

29) CSE HTML Validator Professional 8.04
CSE HTML Validator Professional is a fast, powerful, user configurable, and easy to use professional web development tool that helps you create syntactically correct and accessible HTML, XHTML, and CSS. Can automatically fix HTML. Also checks links.

30) Office Organizer Deluxe
The software is for Internet e-mail, local network (internal network mail, organizer, chat), and for creation and organize of the own client database