1) XSound DSP Plugin for Winamp 2, 3 and 5 7.3
If you want to improve the quality of your sound dramatically you should definitely download our 3D Surround DSP Plugin for Winamp. It will help you to make your sound much more colorful. Plugin has easy to use interface.

2) AirHockey 3D 1.7
AirHockey 3D is a PC simulation of the air hockey game with addictive arcade mode and ten tournament levels. Its distinctive features are hi-tech 3D graphics, realistic physics simulation and smooth controls. This game also supports network play.

3) RaySpace 2.6
RaySpace is a completely new acoustic room reverb simulator. This unique reverb creates up to five channels of surround reverb, all calculated in real-time.All reflections are modelled, and are calculated with speed-of-sound accuracy.

4) Internet Radio 2.1
Internet Radio is the coolest radio that enables you to listen to hundreds of radio stations from around the world while browsing the Internet. You can listen to your favorite Radio without having to open many browsers or search for Radio channels.

5) AMPHIOTIK ENHANCER ST [VST] 1.20
AMPHIOTIK ENHANCER ST (STandard),VST plugin, is a powerful 3D-Audio system, for novice and intermediate users, which processes standard stereo audio and converts it into an enhanced, rich 3D stereo output, increasing the listening experience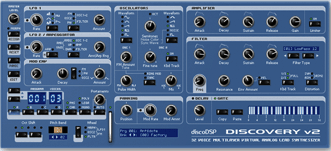 6) Discovery 2.6
Discovery is a Virtual Analog synthesizer inspired by Clavia's Nord Lead for VST hosts featuring: 32 Voice Polyphony (One voice used per triggered layer). 2X Oversampling for hardware quality sounds. More than 3.500 presets in 40 banks.

7) MiniLyrics 5.0.2710
A lyrics viewer showing the synchronized lyrics of the current playing song in Winamp, WMP, iTunes, RealPlayer, Foobar2000 etc. MiniLyrics makes your music come alive with streaming lyrics that are timed with the song.

8) Fantasy Sounds - MorphVOX Add-on 1.0
Enhance your online communication with the Fantasy Sound Pack. Now you can play sounds over voice chat including: sword strike, whip, arrow, horse, and more.

9) Freecorder 2.3
Freecorder does exactly as it sounds -- it is an easy-to-use free software program that lets you record any sound you can hear on your PC. Recordings are saved as MP3 files. Freecorder is a great way to get started with capturing audio on your PC.

10) Lyrics Seeker Plug-Ins 2.1
LyricsSeeker is a plug-in for your favorite music players that retrieves lyrics to song currently playing. Requires little hard drive space and uses close to no memory. Supports iTunes, WinAmp & Windows Media Player.

11) Rebontek Surround Plugin 5.3
One of the best consumer sound enhancement/improvement/dsp effects software for digital music. It is designed to enhance quality of digital music dramatically.

12) Fantasy Voices - MorphVOX Add-on 1.0
Dwarves, Gnomes and Giants, Oh My! Enhance your role-playing with the Fantasy Voice Pack. Now you can play the part of the Gruff Dwarf, the Mighty Giant, the Beautiful Warrior Princess, or the Whiney Squire.

13) Stereoizer 2.3
Stereoizer is a VST plugin that can generate the full range of stereo enhancement, from subtle depth control to full dynamic shifting and phase realignment. Great for percussion, lifeless pads, static leads - anything that needs that little bit extra

14) Sci-Fi Sounds - MorphVOX Add-on 1.0
Enhance your online communication with the Science Fiction Sound Pack. Now you can play sounds over voice chat including: Power Up, Alarm, Blast Teleport, and more.

15) AMPHIOTIK ENHANCER LT [Winamp] 1.12
AMPHIOTIK ENHANCER LT (LiTe) for Winamp is an easy-to-use yet powerful 3D-Audio system, for novice users, which processes standard stereo audio and converts it into an enhanced, rich 3D stereo output, increasing dramatically the listening experience.

16) GroupMail Business Edition 5
With the multi award winning GroupMail range of products you can take the effort out of your marketing, bulk email and mobile SMS text message requirements with complete ease and total peace of min

17) ADA cartoon solitaire 5.03
ADA cartoon solitaire game, a picture-matching game based on mah jong solitaire. Your goal is to remove all the matching tiles by inking pair of them. The deluxe cartoon solitaire has Animated Background. Enjoy all wonderful pictures & animation!

18) Dictionary 1.0
TheFreeDictionary.com presents a free IE Dictionary plug-in. 1) Open the browser and navigate to any web page. 2) Select (or double-click) any word. 3) Right-click and select "Definition" in the menu.

19) AMPHIOTIK ENHANCER 2.03
AMPHIOTIK ENHANCER is a powerful 3D-Audio system, which processes standard stereo audio and converts it into an enhanced, rich 3D stereo output, increasing the listening experience

20) EvilLyrics 0.1.9 Final
Automatically searches and displays lyrics to current song in Winamp, Windows Media Player, Foobar, iTunes, Real Player, MusicMatch, QCD, JetAudio, XMPlay, Meedio, Yahoo! Music Engine, AlbumPlayer and more

21) Angelina 1.1
This virtual instrument uses formant synthesis to generate rich, atmospheric pads sounds. The program is fully midi-controlled. Angelina is available both as a vst plugin or as a standalone synth.

22) LyricsJoy.com 1.0
Plugin which displays lyrics of the song that you are listening to. Works on : Winamp, Foobar 2000,Xmplay, Realplayer, Itunes, Yahoo Jukebox. You can both view the lyrics of the song and display them on your yahoo and/or gtalk status

23) Vintage Strings MkII 1.01
Vintage Strings MkII is a new super realistic virtual string machine VST instrument (VSTi) that perfectly recreates the lush sound of analog string machines.

24) GoldLeo MP3 Tag Editor 4.1
GoldLeo MP3 Tag Editor is an easy to use MP3 tag editor supporting ID3V1.1 and ID3V2.x, and it is also a cool MP3 batch renamer, choose the format and batch rename the files in the directory easily. With it, you can edit the lyrics and pictures or co

25) AnFX Deluxe
AnFX has been empowering web designers the world over for almost a decade and it is still one of the leading programs in rich media development

26) Video Fixer 3.21
One click to repair and fix divx div avi asf wmv wma rm rmvb file which can not be played or dragged.Damaged,corrupted,uncompletely downloaded,bad,have error divx div avi asf wmv wma rm rmvb file also can try to use it.

27) iNetFormFiller Free 3.6.03
Stores private data and fills web-forms automatically. Reproduces order of clicks on web-links. Possibility to edit forms without page loading. Subject profiles, intellectual bind of user profile fields to the fields of online forms.

28) Sound System Modeler 1.0
Sound System Modeler is a DirectX audio plug-in that allows you to listen to your mix on 27 different virtual sound systems without leaving your audio application. Get your mix right before you burn you first CD.

29) AMPHIOTIK ENHANCER ST [Winamp] 1.20
AMPHIOTIK ENHANCER ST (STandard) for Winamp is a powerful 3D-Audio system, for novice and intermediate users, which processes standard stereo audio and converts it into an enhanced, rich 3D stereo output, increasing the listening experience

30) AMPHIOTIK ENHANCER PR [Winamp] 1.02
AMPHIOTIK ENHANCER PR (PRofessional), for Winamp, is a powerful 3D-Audio system, for professionals, which processes standard stereo audio and converts it into an enhanced, rich 3D stereo output, increasing the listening experience